You want IROC for Nasacar Thunder 2004?
Well you got it.
Place zip folder in your
C:\Program Files\EA SPORTS\NASCAR Thunder TM 2004\Season04\Vehicles\Pontiac

Shoot Out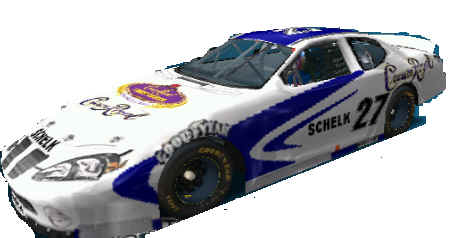 Season One
Practice March 4th 7.pm Central
Points/Drivers

MSI-Ms27

Buster

Chafee

Wheelman

Dakota

DaleJrFan329

Dates/Times

Practice at 7pm Central

Qualifying at 7:30 Central

Daytona Night March 11

Lowes March 18

Michigan March 25

Indy April 1

Drivers Vote April 8

1 for Dover

1 for Martinsville

Winners
Cars to DownLoad

IROC Fictional

Martin,Gordon,Earnhart, and Earnhart Jr.

Shootout Cars
Race Format
1. We will run twin 25 laps per race.
2. Everyone will Qualify for both 25s lap race.
3. Each driver will vote what track to race for Race 5.
4. No Rough driving (if so no points for that race)
5. You run only set ups that I email you for that race. (so that the cars are = ).
To enter Please
Click this

I need your username and what track for Race 5 on April 8th.
(I do make cars for this league, and if you want one please in your email tell me the color, name, and number.)